YaoPharma and Japan's Asahi Kasei signed agreement of strategic partnership
02 / 03 / 2022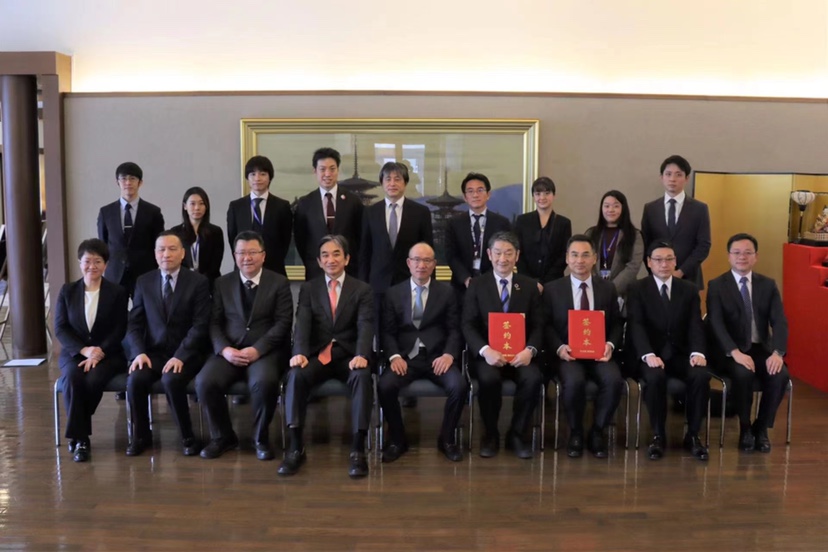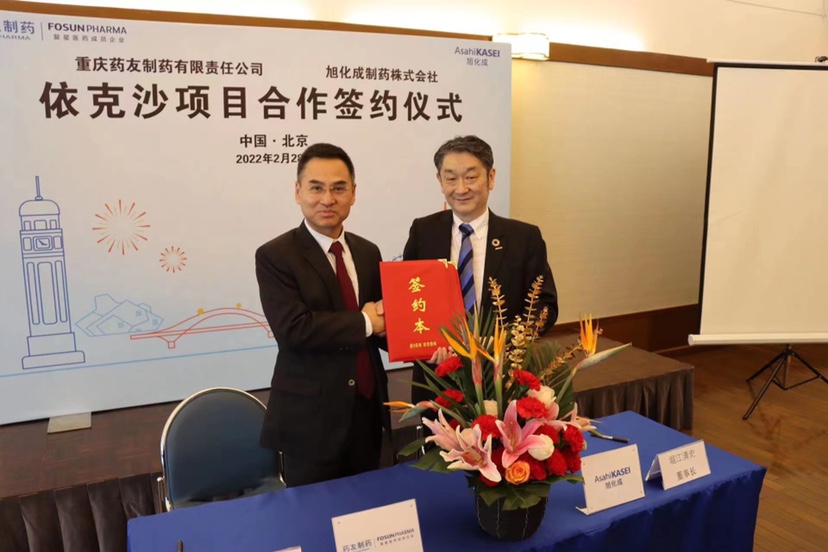 YaoPharma and Asahi Kasei Pharma Co., Ltd. signed a strategic cooperation agreement at the Japanese Embassy in China on February 28.
Liu Qiang, a global partner of Fosun Group and Chairman of YaoPharma, and Kiyoshi Horie, Chairman of Asahi Kasei Pharmaceutical Technology (Beijing) Co., Ltd., signed the contract on behalf of both parties at the signing ceremony. Japanese Ambassador to China Tarumi Hideo, Deputy Director of Chongqing Medical Products Administration Li Xiaoping, Chairman of Fosun International Guo Guangchang, President of Asahi Kasei Pharmaceutical Co., Ltd. Aoki Kiwa and other leaders & guests witnessed the event.
This signing is of great significance to the cooperation between the two parties. Both parties will take this opportunity to strengthen cooperation in the field of big health, give full play to their respective advantages, realize resource sharing and complementary advantages, provide Chinese patients with more efficient, more convenient and safer medical and health services, and bring good life to more families in the future.
-Related Links-
Asahi Kasei Pharmaceuticals Co., Ltd.
Asahi Kasei Pharmaceutical Co., Ltd. is mainly engaged in the business of health field with focus on medical pharmaceuticals, and also carry out emergency treatment business with orthopedics as the core. It has launched a variety of new drugs in centralized treatment, urinary system, immunity, central nervous system, etc. At the same time, as a R&D-oriented special pharmaceutical manufacturer, it is committed to launching new drugs for global use.
YaoPharma
YaoPharma was established in 1939 and is a member of Fosun Pharma. After more than 80 years of development, it has become a group-based, national-level key high-tech enterprise with a complete pharmaceutical industry chain. YaoPharma is committed to breaking down the barriers of domestic and foreign pharmaceutical markets. Its self-developed and manufactured APIs and finished products have been successfully launched to Europe and US.
About YAOPHARMA
YaoPharma is a pharmaceutical manufacturer integrating R&D, manufacturing and marketing & sales functions, with multiple subsidiaries, and fully complying with Chinese GMP. Its oral solid line passed GMP inspection from Health Canada and US FDA; its API site passed GMP inspection from US FDA, EU EDQM, Australia TGA and Japan PMDA, etc
learn more...