Another step to internationalization, YaoPharma invested 1 billion Yuan to build an international manufacturing hub for APIs
29 / 11 / 2018
Recently, YaoPharma completed its strategic integration of Hunan Dongting Pharma. Relying on Dongting Pharma's first class development platform, YaoPharma invested 1 billion Yuan in Changde Economic and Technological Development Zone of Hunan Province to build an international manufacturing hub for APIs.
This project will be an important manufacturing base for APIs and intermediates, and become a leading manufacturing hub for CNS and hemostatic drugs.
On Nov. 28, YaoPharma held the ground breaking ceremony in Changde Economic and Technological Development Zone for it's international API manufacturing hub.
This project is another major strategic investment of YaoPharma after the construction of a "large-scale internationalized and industrialized manufacturing hub" in Liangjiang New Area of Chongqing. Relying on YaoPharma's advanced technology and product advantages, it will be built in accordance with international standards. The goal is to make it an important manufacturing base for APIs and intermediates, and become the leading manufacturing base for CNS and hemostatic drugs.
It is reported that the base covers a land of 333,350 square meters. Phase I investment is estimated to be 1 billion Yuan, to build a modern manufacturing base of 250,000 square meters. The construction will be completed by end of 2020 and start operation by end of 2021. After running, it will further consolidate YaoPharma's leading position in the fields of APIs, CNS and chemical hemostatic drugs.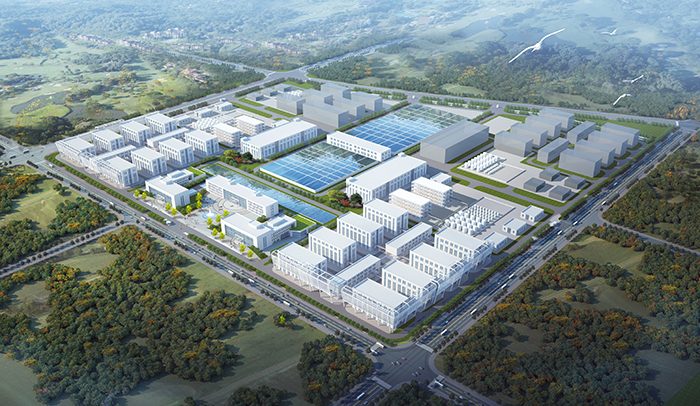 Future view of the international API manufacturing hub
—— About Dongting Pharma ——
Dongting Pharma, a leading pharmaceutical company in China for CNS and chemical hemostatic drugs, was established in 1958 in Changde, Hunan Province. Now, it's a subsidiary under YaoPharma.
After years of technological innovation and market competition, hemostatic drugs and psychiatric drugs have become the leading products of Dongting Pharma. The hemostatic drugs Tranexamic Acid and Aminomethylbenzoic Acid have formed a superior advantage in large production and sales scale and superior quality; for psychiatric drugs, Dongting Pharma has fast development on product categories, strengths and dosage forms. The main categories include anti-schizophrenia drugs, anti-depressive drugs, anti-epidemic drugs and sedative hypnotics.
Dongting Pharma is a provincial-level enterprise technology center, provincial-level Engineering and Technology Research Center for psychiatric drugs in Hunan Province, owns provincial famous trademarks, provincial international famous brands, and a number of national invention patents and appearance patents, such as "manufacturing method for hemostatic acids",  "manufacturing method of pharmaceutical grade quetiapine fumarate", "quetiapine fumarate extended-release preparation composition and its application".
Dongting Pharma has established a sound quality assurance system, and all products have obtained China GMP certification. Tranexamic acid complies with USP, BP, JP and EP, and passed GMP certification from US FDA, UK MHRA, EU COS and Japan PMDA, and it's exported to more than 30 countries and regions.
About YAOPHARMA
YaoPharma is a pharmaceutical manufacturer integrating R&D, manufacturing and marketing & sales functions, with multiple subsidiaries, and fully complying with Chinese GMP. Its oral solid line passed GMP inspection from Health Canada and US FDA; its API site passed GMP inspection from US FDA, EU EDQM, Australia TGA and Japan PMDA, etc
learn more...